An Elevated

Experience

Take relaxation to new heights with an elevated spa experience in one of our three tree-house inspired rooms. Choose from a variety of massages, facials, and body treatments uniquely designed to restore your sense of well-being using the resort's signature brand of soothing oils and lotions. Your intuitive therapist will incorporate rosemary, lavender, and mint picked fresh from Hidden Pond's organic gardens.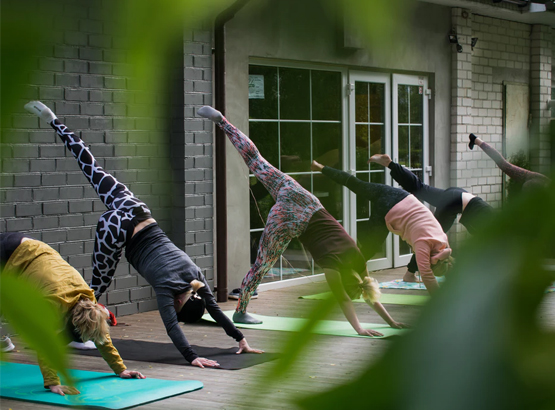 Yoga
Roll out your mat and return to your breath during an outdoor yoga class designed for all levels. Our instructors are ready to hold space for your practice, whether it's restorative yin yoga or an energizing fusion flow.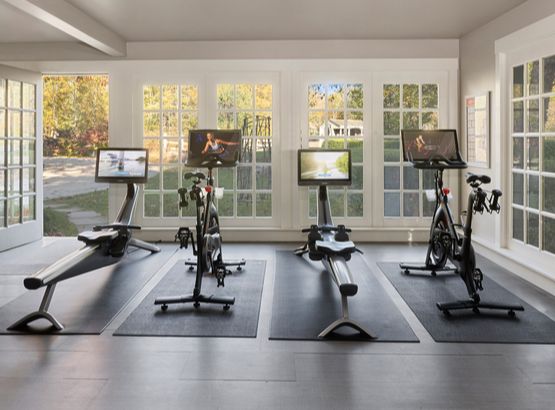 Fitness Studio
Get in a great workout at our state-of-the-art fitness studio, complete with Peloton bikes, NordicTrack treadmills, Hydrow rowing machines, and on-demand classes with The Mirror.
Tree Spa Policies
Reservations
Due to the size of the spa and limited availability, we highly recommend that you schedule your treatments in advance of your visit.
To ensure that all guests can enjoy the peaceful environment of the Tree Spa at Hidden Pond, we respectfully request that noise be kept to a minimum. For your safety, we recommend refraining from drinking alcoholic beverages before receiving a spa treatment. Children are not permitted in the spa. In consideration of other guests, please leave your cell phone behind. Smoking is prohibited.
Early Arrival Requested
We strive to ensure that all of our guests are seen at their scheduled time, so please plan to arrive 10 minutes prior to your appointment to complete the Guest Intake Form. If your arrival is late, your service may need to be shortened or adjusted to accommodate our schedule and other guests.
Cancellation
A 24-hour cancellation notice is required for all appointments or you will be billed for 100% of your service and gratuity.
Special Consideration
At this time we are requesting special attention to how you feel. If you have had a sore throat, cough, fatigue, shortness of breath, or have been in close contact with individuals with Covid-19, we ask that you do not book appointments at this time.
Please advise us of any medical condition, injury, or if you are currently under a physician's care. Conditions such as pregnancy, high blood pressure, or heart ailments are of special interest to our spa professionals. We strive to provide you with the best attention possible and want to be sure that our treatments do not interfere with any issues you may be experiencing. We will customize our services to fit your needs whenever possible.
What to Wear
For most treatments, no special clothing is necessary. Our therapists are well versed in proper draping techniques to ensure your privacy and comfort.
Gratuities
Prices do not include gratuity. A 20% gratuity will be added to your service(s).
Location & Parking
The Tree Spa is located near our restaurant, Earth at Hidden Pond, on the other side of the Serenity Pool. Parking is available in front of Earth at Hidden Pond or near the Event Barn.
Payment
We accept Visa, Master Card, American Express, and Discover. Guests of Hidden Pond and The Tides Beach Club may charge services to their room account.
Close
Spa Services
Massage
At the Tree Spa, our therapists have the training and intuition to customize a massage based on your specific needs, leaving you feeling remarkably relaxed and renewed. 
Fall Renewal Spa Experience
90 Minutes $210
Allow our hand-crafted scrub to clear away tensions of the body and mind with local in-season herbs and oils to help your skin deeply hydrate. Your massage and scrub will be finished off with a nurturing warm body wrap with scents of bergamot and cinnamon. Finishing touches include a peaceful scalp massage and foot massage with warmed salt stones. 
Pure Therapy Massage
60 Minutes $150 | 75 Minutes $175 | 90 Minutes $210
You and your therapist will begin this journey by selecting an aromatic essential oil blend and discussing your therapeutic needs to develop a customized and targeted massage. This focused treatment utilizes a combination of massage techniques, scented oils, and our serene and peaceful surroundings to relax and renew.
Pure Earth Heated Stone Therapy Massage
60 Minutes $160| 75 Minutes $185 | 90 Minutes $210
Inspired by Native American rituals and utilizing the aromatic benefits of organic herbs and essential oils, warmed basalt stones are used in conjunction with long flowing strokes to soothe and renew. The combination of aromatherapy, warmth and massage techniques melt away tension. This unique and truly profound experience will leave you relaxed, balanced, and soothed.
Muscle Melt Renewal Massage
60 Minutes $170 | 75 Minutes $190 | 90 Minutes $220
This focused, tension-relieving massage uses scented oils, warmed towels, and therapeutic gels to concentrate on the stress areas of the upper back, neck, shoulders, and scalp. This treatment is great for those experiencing jet lag or travel stress or those suffering from muscle tightness and tension in the back area.
Mother-to-Be Well-Being Massage
60 Minutes $150 | 75 Minutes $170 | 90 Minutes $190
This massage is designed to relax the mother-to-be using special positioning and pillows to ensure the safety and comfort of both mother and baby. A warm, scented foot soak will help to alleviate swollen ankles. Specially blended herb-infused oils and gentle massage techniques help relieve muscle strain and tension on the lower back, legs, and feet.
CBD-Infused Massage
60 Minutes $180 | 90 Minutes $210
CBD-infused massages bring a new meaning to deep and total relaxation. This wonderful pain-relieving alternative to our massages offers our CBD oils that battle inflammation by activating the pathway receptors in the body, reducing soreness and stiffness. These treatments will enhance the feeling of wellbeing, allowing your body to relax longer.
In-Room Massage
60 Minutes $200 | 90 Minutes $260
Experience massage in the comfort of your cottage. Includes take-home products. Offered on weekends in July and August; excludes the Heated Stone Massage.
Add-On Muscle Spot Therapy
15 Minutes $40
This 15-minute add on to any massage will allow your therapist to target a specific area of concern or stress. Using a natural, therapeutic gel with warm towels will help to alleviate tension and strain. Only available as an add-on to any massage.
Add-On Reflexology Therapy
30 Minutes $80
A 30-minute Reflexology Treatment can be added to any massage.
Aromatherapy Massage
Formulated by leading holistic practitioner and aromatic healer Hope Gillerman, our organic aromatherapy massages have been designed to address and alleviate the stressors of modern-day life.
True Relaxation | 60 Minutes $155 | 90 Minutes $205
Surrender to deep muscle relaxation and renew your body with this soothing treatment. Stress Remedy (lavender, tangerine, sandalwood) calms you down and Muscle Remedy (basil, birch, and vetiver) will relieve any muscle aches and inflammation.
Clear Mind | 60 Minutes $155 | 90 Minutes $205
This treatment addresses mental clarity and focus by promoting a sense of well-being and grounding. Tension Remedy (peppermint, lavender) will aid in reducing head and neck tension while improving clarity and thought. Jaw Clenching Remedy (chamomile, vetiver, patchouli) assists in calming the mind and spirit. This treatment is good for those wanting to shift gears mentally to a more focused and balanced approach to everyday living.
Body Treatments
Awaken the senses with an invigorating body scrub, relieve tired muscles with a pressure point massage, and soothe the sinuses with essential oils during one of our unique body treatments.
A Walk In The Forest | 90 Minutes $200
A re-energizing breath of fresh air with essential oils of cedar and cypress inspired by French forests. This invigorating experience includes an intense salt scrub, followed by a sculpting bamboo-based leg massage for a renewed feeling of lightness and wellbeing.
Kennebunkport Delight | 90 Minutes $200
A sweet gourmet scrub, combined with a re-balancing massage to awaken your senses, will free you from stress, fight against physical and mental fatigue and recover your energy levels. This high-quality freshly made organic product line will revitalize you and awaken your senses.
Sole Soothing Herbal Leg and Foot Treatment | 45 Minutes $105
Relieve tired leg muscles and feet with this soothing, pressure point massage using aromatic oils and warmed stones.
Sinus Soothing Herbal Face, Neck and Scalp Treatment 45 Minutes $105
This soothing treatment uses essential oils, warmed stones, and light to moderate massage techniques to relieve sinus pressure and congestion.
Facials
Designed to address your individual skin care needs, our signature facials range from deep-cleaning to ultra-hydrating, revealing the best version of the skin you're in.
Bio-Energy Lift Firming Facial
90 Minutes $240
This luxurious treatment delivers instant rejuvenation by accelerating cellular respiration, bringing fatigued, over-stressed skin back to life. Using our 'Energize and Firm' Collection, a blend of a copper and Amino Acid Complex, peptides, vitamins, and minerals your skin will be left firm, lifted, and revitalized.
Hidden Pond Holistic Signature Facial
75 Minutes $195
Retreat to the woods in Maine for a magical facial. This holistic facial embraces beauty and is rooted in wellness and the understanding that radiant skin is a reflection of how or skin feels and is taken care of. Our expert estheticians will help to customize your facial and identify your skin's personality. Beginning with a detoxifying lymphatic brushing, relaxing aromatherapy and massage targeted active ingredients from plant stem cells to peptides into the skin, making sure to pay close attention to just what your skin needs. Leave with a holistic prescription of skincare helping to deliver true and lasting results. You will leave glowing and feeling fantastic!
Herbal Hydration Booster Facial
60 Minutes $150
Help alleviate dryness and dehydration with our intensive hydration treatment. The hydration booster facial consists of a two-part exfoliation system to remove dead skin cells and instantly improve tone and texture, while minimizing the appearance of fine lines and wrinkles. Plant-based ceramides, hyaluronic acid and botanical extracts help restore natural moisture, leaving skin hydrated, toned, and firmed.
Gentleman's Facial
60 Minutes $150
A custom treatment suited for the gentleman, our men's facial consists of a two-part exfoliation system to remove dead skin cells and brighten complexion. Vitamins, minerals, peptides, and botanical extracts will improve tone, texture and address irritation associated with shaving. This facial will combat the visible signs of aging skin and restore hydration. A soothing arm and hand treatment is added to promote the ultimate in relaxation.
On-the-Go Mini Facial
30 Minutes $90
An "afterglow" awaits you in minutes' time! Our express brightening treatment begins with a deep exfoliation to remove dead skin cells and boost cellular turnover. Allow powerful antioxidants, soothing and hydrating botanical extracts repair free radical damage, improve skin tone and moisture. This "quickie" treatment will be sure to leave skin brighter, tighter, hydrated, and nourished. Please note: this treatment may not be booked as a stand-alone service; it is available as an add-on to any massage or body treatment.
Spa Enhancements
Each 15-minute Spa Enhancement is designed to serve as an add-on to our already indulgent facials, massage therapies, and body treatments.
Wild Lime Oil Scalp Treatment
15 Minutes | $40
This relaxing scalp treatment may be added to any massage or body treatment. Soothe your scalp and your senses with this rejuvenating therapy. This service is available as an add-on to any massage, body treatment or facial.
Sinus Soothing Face Treatment
15 Minutes | $40
This soothing treatment uses essential oils, warmed stones, and light massage techniques to relieve sinus pressure and congestion.
Sole Soothing Herbal Foot Treatment
15 Minutes | $40
This pressure point massage incorporates aromatic oils and warmed stones. The light massage techniques will alleviate foot tension and strain resulting in an overall feeling of renewal and balance.
Thank you for another great year! Hidden Pond is now closed for the winter season and we look forward to welcoming you back in May 2022.